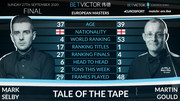 Deocamdată, finala pare inegală. Chiar și este, bineînțeles, dar mă așteptam ca Martin să aibă replică, pe ici, pe colo...

Și încă ce replică a avut ! Bravo lui ! Bună finală. Mult mai bună decât o anticipam.

Selbs mai are un pas până să egaleze recordul lui Hendry la capitolul

finale consecutive disputate & câștigate

: a ajuns la zece (Judd are 9).

_________________

Laureată a Premiului Oscue - German Masters 2018, German Masters 2019

"When I have to choose between a tactical shot and one from the heart, I will usually go for the heart..."